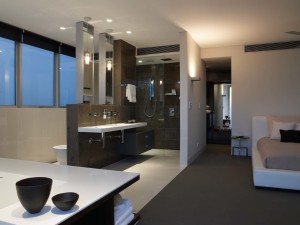 We are starting to see potentially the next big thing is the parents retreat! If you're living in a home with children, sometimes it feels like that there is just not enough space for everyone.  If you feel like you're always living on top of each other, the solution could be to build a parent's retreat, where you can go to unwind and relax in privacy.
"the parents' retreat" is replacing the humble en suite. The once tacked-on narrow bathroom with a small shower at one end and a toilet at the other, the vanity in the centre with small to no storage, is being replaced with a large space with less walls. These walk-through spaces allow a couple to share a space, allowing greater interaction during the key parts of their day.
So what does this new parents' retreat comprise of? It's a space where a couple share intimate space, a space where they unwind, get ready for the day ahead, sleep and also bathe.
This space is effectively 3 rooms cleverly connected as one. It does or can have the potential to close down into individual spaces or be open like we are used to at our favourite resorts, where the doors are mostly always open and those sharing the space always feel as if they are connected.
Baths are visible and in close proximity to the bed, so we can discuss our days and converse whilst doing a number of tasks. Yes, the toilet is tucked away and private.
Showers are becoming larger and large enough for 2 to share, the water comes from 2 sources; one from the ceiling like urban rain and the other from the wall, adjustable to suit not getting hair wet or washing kids' hair.
The "vanity" has taken on an almost furniture-like role. It must have good storage but it has to look great. The basins are coming in all shapes and sizes even integrated into work surfaces.
So what is driving this? There are many factors but resort-style living is key. We always feel great when we are away and after all, this is where we start and finish our day so it should be a great space.
If that sounds good to you, here's what you need to know to get you started!
Designing the Parent's Retreat
The first thing that you need to do is to sketch out exactly what you want from your parent's retreat.  Do you want it to just be a small quiet room where you can go to have a cup of tea or would you like it to be an area that can also be used for entertaining when you have friends over?  For example, one option is to have a small room off your bedroom filled with cosy chairs for reading a book.  Alternatively, you can build a large room to house a few couches, a large TV and DVD player and even a separate toilet, so it's a room you can comfortably spend hours in.  Sketch out the approximate size and layout.  If you have trouble with this, a professional will be more than happy to help.  Make sure that you keep your budget in mind during the design phase.  Set out a budget and remember that it will need to include the cost of gaining permissions, the cost of building and labour, as well as an emergency fund in case of anything going wrong.
Locating the Parent's Retreat
The second thing you need to do is to decide exactly where you want the parent's retreat.  Ideally, it will be located away from the kids' bedrooms.  One option is to extend the living area and separate it and the retreat through the use of large folding doors.  You could also add it onto your master bedroom, again separating the areas through doors that slide or fold away.  If you don't want to go into your garden space, however, you'll need to extend upwards and while this can be a great choice, it is also a more costly option.  Finally, if you don't want the retreat attached to the home at all, you can build a small cabin in the backyard and use that as your escape area!
We can Build the Retreat!
Once all the planning work is done, you can start the process of building the retreat.  Lodge the paperwork to your local council to get all the planning permissions that you need. Once this is done, the building process can begin.  This will disrupt your lifestyle while it's happening so you need to plan for this (staying at a friend's if you need to and so on).  Jawcon will also act as a project manager, making sure that the work is being done on time and to standards.  We will provide you with a clear, easy to understand contract and will attach a warranty to your work.