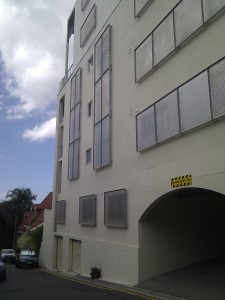 About Terraçade innovative façade system
With the introduction of the innovative Terraçade terracotta façade system by Austral Bricks, a new era in design has been unleashed to change the face of new and refurbished building projects across Australia.
Terraçade provides practical and visually appealing solutions to many design obstacles. This authentic terracotta product boasts design flexibility that stamps every project with stylish individuality. It is ideal for existing structure redesign or continuity of colour and shape in new construction.
Available in a range of natural earthy colours and two different profiles, the Terraçade system will enhance any project large or small. The unique design of Terraçade allows it to be used on buildings up to 40 storeys high, and the natural properties of terracotta ensure durability, colour fastness and a life-long maintenance-free finish.
07 3352 3711 
Schedule your free no obligation quote now
or fill out our online Quote form and we'll
respond promptly.